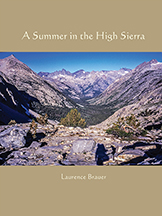 A Summer in the High Sierra is available in EPUB, Mobipocket/Kindle, and PDF formats.
The cost is $10.00
You can order the EPUB (Adobe Digital Editions, Nook, Sony Reader) from here:
Goodreads

You can order the Mobipocket/Kindle from here:
OR
You can order directly from this website.
To order directly, please pay through this Paypal link.
Then send an email to:
In your email, please indicate:
1. What format you would like to receive: PDF, EPUB, Mobipocket (Kindle and other Mobipocket readers).
2. What email address you would like the file sent to.
WARNING: The files are rather large: 22,000 KB (PDF) 40,297 KB (EPUB), 7,595 KB (Mobipocket/Kindle). Certain Internet Service Providers put a limit on how large a file can be sent via email. Please check with your Internet Service Provider if you are unsure about receiving a file that large.
Disc Copy: If you would prefer a disk copy of A Summer in the High Sierra please indicate that in your order email. Please also provide a mailing address for sending the disc. I can provide all 3 formats on a single disc so you do not need to specify the preferred format.
If you are not a Paypal member, please email me at asiths@sonic.net to make alternative arrangements.
Interview: Makayla's Book Reviews (Note: the links in the article are out of date.)
If you'd like to read a sample chapter from A Summer in the High Sierra in PDF format, double click on a link below. All links require Adobe Acrobat Reader.
Tuolumne Meadows to Rush Creek
Medley Lakes to Evolution Valley
Hutchinson Meadow to Granite Park